Richard's 2023  Original Song videos below
This song is about Risk and Reward. 
It seems to me, when I was a growing up,  I learned about risk and reward through experience.   
From where I sit, the goal seems to be to have the knowledge of risks and rewards before you have to make a big decision. 
Maybe it's a financial decision, that could cost you if it goes bad.  
This song talks about having too much risk, and having too little risk. 
This song was inspired by the speeches of President Obama.  He is a gifted orator, and has given a number of inspiring speeches that live on.   
The theme of the song is lifting yourself up by the boot straps. 
The rhythm of this song is a throw back to the swinging 20's.   
Original song for February 2023.   
This song asks the question, what will you do with your time today. 
 This song is my first release for 2023.  
Lyrics are – Stone In My Shoe,  Thorn In My Side,  Hope In My Soul . 
Kind of a bluesy song.   Take a listen.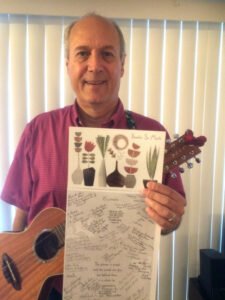 The phrase is simple and the words are few,
but behind them is a whole lot of appreciation.
Thank You's from the Mission Ukulele Circle
Join my email list to receive my latest ukulele tutorials,  videos, and blog posts.   
You agree to abide by the website Terms and Conditions and Privacy Policy below. 
Creating Music From The Heart