Richard's Favorite Cover Songs have been around for decades. 
Check out his cover song

videos below.   
was written and recorded by Paul Simon on his Graceland album in 1986.   
Listen to my cover version here. 
I Shall Be Released 
written by Bob Dylan in 1967 and first recorded by The Band. 
This was recorded at a recent live event.   
One of my favorites from my high school days. 
Watch the video here.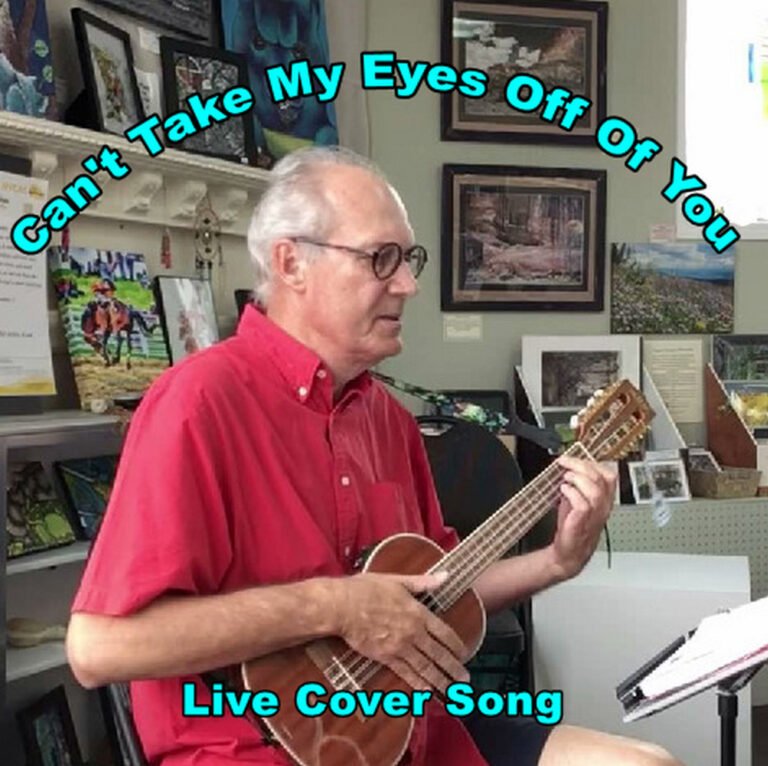 Can't Take My Eyes Off of You
was written by Bob Crewe and Bob Gaudio in 1967 and recorded by Frankie Valli, which became one of his biggest hits.
Richard is using backing tracks created with Mixcraft software from Acoustica. Richard is playing a Kala 8 string tenor ukulele.
His dangle ( music thingamajig ) is made by www.2designelectronics.com
was written and performed by James Taylor on his second album Sweet Baby James in August of 1970.
The song was written about the suicide of a childhood friend, and his experiences with drug addiction.
I was in high school when this song came out.   A great song ! 
See the video here. 
Brown Eyed Girl was released by Van Morrison in March of 1967, and became one of his signature songs.
I played this song in a few of my bands over the years, when I was drumming. Here is my version of the song.
Tower Of Power has been one of my favorite bands since the late 70's. Working out of San Francisco the band has been playing for over 40 years. Their signature funk sound with a great horn section, makes them one of a kind.
One of their originals is – Only So Much Oil ( in the ground ) was written and released in the 1970's. It seems almost 50 years later, the dream of getting off oil is starting to come true with the rising popularity of electric cars.      Watch Here. 
You Can Call Me Al – Cover Song 
You Can Call Me Al was written and recorded by Paul Simon in the 1986 on the Graceland album.
See my version here. 
All My Life's A Circle
by Harry Chapin in the 1970's.  
Harry was one of the great story songwriters of my generation. 
He died in 1981.   
Watch it here.
Fly Me To The Moon
Bart Howard wrote this song in 1954, but titled it " In Other Words", and played it in 3/4 time. It was first recorded by Kaye Ballard. In 1960, Peggy Lee sang it on her album and on the Ed Sullivan show, where it became more popular, and started to become referred to as – Fly me To The Moon. In 1963 Peggy Lee convinced Bart to officially change the name of the song to Fly me To The Moon. Quincy Jones' version of the song later changed the song to 4/4 time.
Don't Worry – Be Happy  
Don't Worry Be Happy was recorded by Bobby McFerrin in 1988.   
It was the first a cappella song to reach number-one on the Billboard Hot 100 chart, which was a position it held for two weeks.
Cover Song Medley 
Tin Man,  Stand By Me,  City of New Orleans 
This cover song medley features live recordings on Stand By Me and City of New Orleans.  
Moondance 
MoonDance (the song and the album ) by Van Morrison, was released in Jan. 1970.   
The album was a great success and defined Morrison's blues – rock style for the rest of his career.   My version to the right  – – – – > > 
What's  Going On 
What's Going On was released by Marvin Gaye in May, 1971. Quoted from Wikipedia – What's Going On is a concept album with most of its songs segueing into the next and has been categorized as a song cycle; the album ends with a reprise of the album's opening theme. The narrative established by the songs is told from the point of view of a Vietname veteran returning to his home country to witness hatred, suffering, and injustice. Gaye's introspective lyrics explore themes of drug abuse, poverty, and the Vietnam War. He has also been credited with promoting awareness of ecological issues before the public outcry over them had become prominent. 
Let's Stay Together
Let's Stay Together was recorded by Al Green on his 1972 album of the same name. It is ranked the 60th greatest song out of 500, by Rolling Stone magazine.
In 2010, it was added to the National Recording Registry by the Library of Congress, for songs that are – culturally, historically, and aesthetically significant.
Somewhere Over The Rainbow
This is my version of Israel "IZ" haiwiian ukulele man's great version of this song.
Tin Man by the band America
Tin Man was released by the band America in 1974 on their Holiday album. The song was written by Dewey Bunnell. The Wizard of Oz  was one of Bunnell's favorite movies and fashioned some of the lyrics after it. Tin Man was the band's fourth Top 10 hit.
Stand By Me
Recorded live at a dance I played at in 2017. 
Song History – Stand By Me was written by Ben E. King, Jerry Leiber and Mike Stoller. The title came from a spiritual called Stand By Me Father. It was recorded in 1961 by Ben E. King. There have been over 400 recordings of the song by various artists, including John Lennon, Muhuammad Ali, and Tracy Chapman.
City of New Orleans
Live Performance Cover Song. 
The song was written by Steve Goodman on his 1971 album. It describes the train ride from train ride from Chicago to New Orleans in nostalgic terms. The song was also recorded by Arlo Guthrie and Willie Nelson a few years later.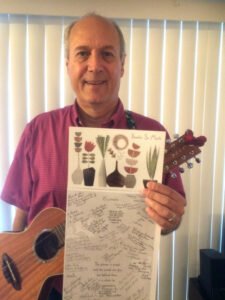 The phrase is simple and the words are few,
but behind them is a whole lot of appreciation.
Thank You's from the Mission Ukulele Circle
Join my email list to receive my latest ukulele tutorials,  videos, and blog posts.   
You agree to abide by the website Terms and Conditions and Privacy Policy below. 
Creating Music From The Heart