The Thoughts On Life Blog – From Where I Sit, are Richard's written thoughts, looking at life from a retired point of view. He talks about how things have changed, both for the good and bad, since he was a younger man and how he sees things going forward in the future.  Topics include music, songwriting, finance, technology,  and as the title says, thoughts on life.  
The longer you play your instrument, in my case the ukulele, the more chances will come that there will be an important event to play
Read More »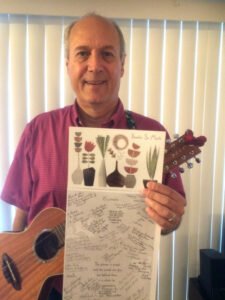 The phrase is simple and the words are few,
but behind them is a whole lot of appreciation.
Thank You's from the Mission Ukulele Circle
Join my email list to receive my latest ukulele tutorials,  videos, and blog posts.   
You agree to abide by the website Terms and Conditions and Privacy Policy below. 
Creating Music From The Heart